Presented by Silver Spotlight Theatre, a branch of Musical Theatre Productions
Rodgers & Hart's
BABES IN ARMS
March 24 to April 2, 2023
Auburn Stage
Music by Richard Rodgers
Lyrics by Lorenz Hart
Book by Rodgers & Hart
Adapted by John Guare
Presented by Silver Spotlight Theatre, a branch of Musical Theatre Productions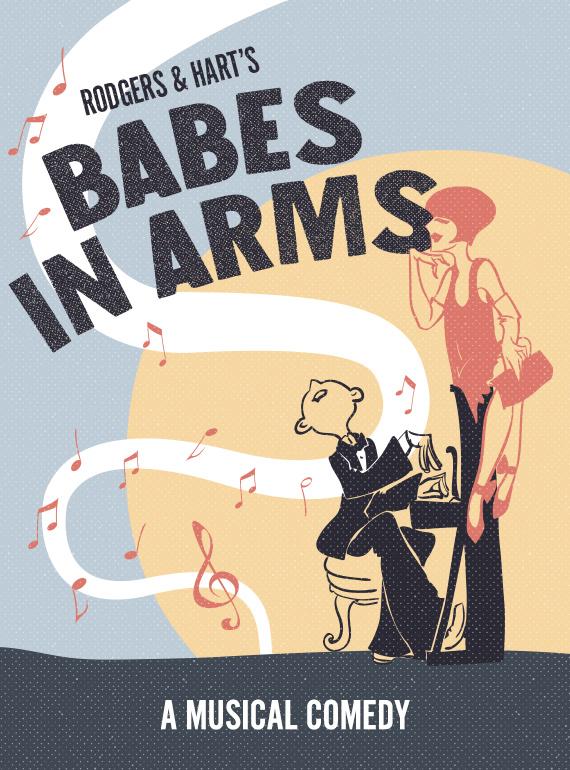 Upcoming Shows & Tickets
Originally written and produced in 1937, Rodgers & Hart's BABES IN ARMS is the story of young people looking to raise money to stay off the work farm after their parents leave them unattended to seek their own success on the dying vaudeville stage. Mickey Rooney and Judy Garland starred in the 1939 "I've got a barn! Let's put on a show!!" movie version. The show received a further adaptation onstage in 1978. This production by Silver Spotlight Theatre will see tables turned by having the show's cast and crew made up of the talents of those 55+ playing these great young roles, and singing some of Rodgers & Hart's most successful songs that have been performed by a multitude of crooners and chanteuses ever since, including "The Lady is a Tramp", "Johnny One Note", "My Funny Valentine", "I Wish I Were in Love Again", and "Where or When". BABES IN ARMS has been delighting audiences for over eight decades and this production is truly like none before and not to be missed.
Silver Spotlight Theatre, a brand-new wing of Musical Theatre Productions dedicated to producing musicals with those 55 years and older in our community, is excited to present Rodgers & Hart's BABES IN ARMS as its inaugural production. MTP has been at the forefront of musical theatre in London's community theatre scene since its founding in 1988. And now, with this new branch, Silver Spotlight Theatre, MTP is proud to open opportunities for more members of the community to experience the joys of musical theatre. For more information on Musical Theatre Productions and Silver Spotlight Theatre, please visit mtplondon.ca
Rodgers & Hart's BABES IN ARMS is presented through Concord Theatricals.