In the Spotlight:
Andrea Menard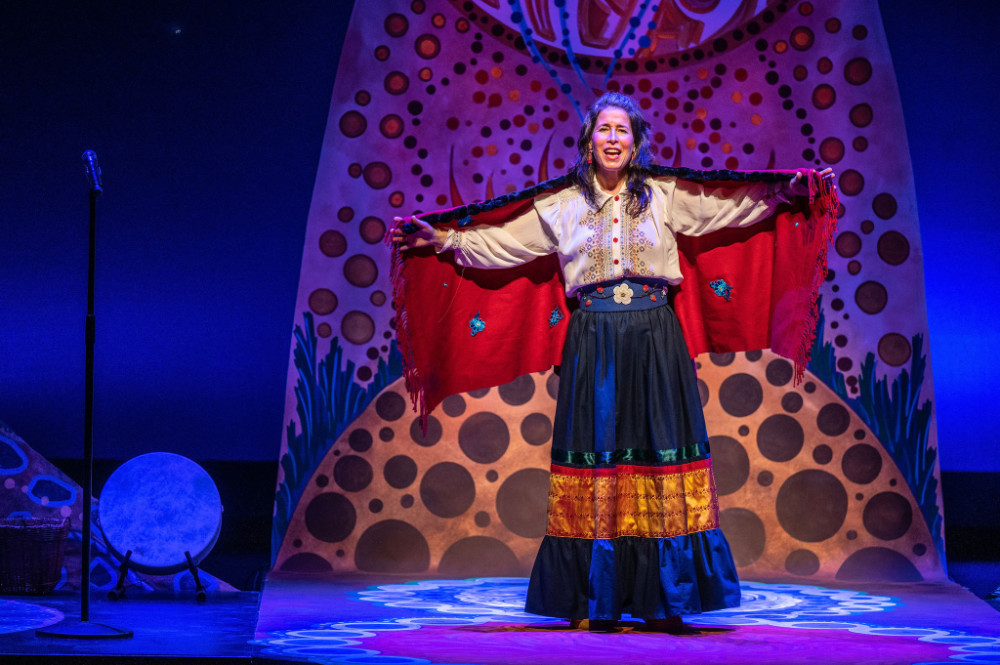 Andrea Menard in Rubaboo. Photo by Dahlia Katz
Andrea Menard is a person of many titles. She is singer/songwriter, actor, speaker, wellness trainer, and founder of the Sacred Feminine Learning Lodge. But, above all these things, Andrea is a proud Métis woman who is determined to change the world – one heart and one mind at a time.
With this belief at the forefront, Andrea has created a unique show that will debut on the Grand's Spriet Stage in March 2023: a Métis cabaret called Rubaboo. Singing songs and telling stories of reconciliation, unity, love, frustration, and resilience, Rubaboo will take audiences on a collective journey that will entertain, uplift, and change perceptions.
With the world premiere in sight, Andrea reflects on the road to Rubaboo, the focus of a Métis cabaret, and her hopes for London's audience.
As a singer/songwriter, actor, speaker, wellness trainer, and the founder of the Sacred Feminine Learning Lodge, you clearly wear many hats. But, what came first? As a child, did you dream that you would make this much of an impact with all of these diverse roles? 
Really, I had none of these dreams as a child because I didn't think I was allowed to do any of them. But in the beginning of my career, acting and singing came at the same time. Then writing came along and I realized that I was more than these two things. Then, of course, being an Indigenous woman, I realized that the Grandmothers had been trying to tell me that I'm not just these three things, but that I'm actually four – a Medicine Wheel. All along, I have been a Medicine Wheel of an actor, singer, writer, and messenger. And when I'm using all four parts, like in Rubaboo, I'm at my best.
Tell us about the Sacred Feminine Learning Lodge.
During the isolation of COVID-19, watching our world writhe and ache, while I yearned to be quiet and private, I was called to be a helper. With so many people feeling lost and without hope, I realized that I needed to break out of my isolated shell, and help in any way I could. So, I did. I took all of my teachings about the Rise of the Sacred Feminine – learning to walk gently, learning to be self-compassionate, learning to express our feelings – and created courses and materials under the Learning Lodge name. At this time, it's just me online, it's not a major business. But, this is how change happens – one person at a time.
As a wellness trainer, you train women to "Lead Like a Goddess." What does this mean? Why is this training so important?
If you are successful in any industry, it probably means that you have learned to access and use your masculine skills to succeed – regardless if you are a man, woman, or non-binary person. But over the last few years especially, I have seen so many women hit a wall – me included!
As women, we need to acknowledge that we aren't supposed to be driving ourselves like men to succeed – we need to lead in a different way. And that way is with balance, heart, compassion, collaboration, and true authentic emotional expression. That means women need to stop apologizing when we cry in moments of passion. A true goddess allows herself – all of herself – to shine.
We have arrived at a place where we want systems to change, but if we – as women – can't change in these systems then how can we expect the masculine – who are looking to us for guidance – to change? Life is a beautiful balance. So, someone needs to encourage women and remind them that they don't have to fit into this masculine structure; they can lead like a goddess. So, I say do it now – have the courage! Cry, nurture, hug, and be fierce when you need to!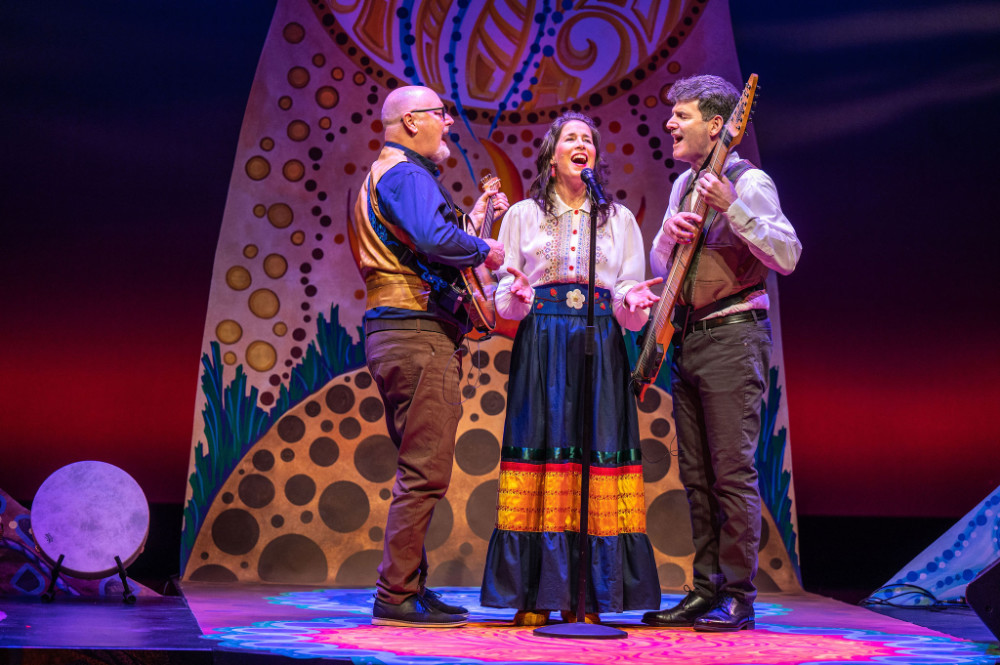 Robert Walsh, Andrea Menard, and Nathen Aswell in Rubaboo. Photo by Dahlia Katz.
Who, or what, inspired you to create Rubaboo?
Dennis Garnhum! He reached across the miles and said, "We're opening our new Auburn stage, would you have something for it?" I told him that I had a small, acoustic symphony show, but I was very clear about my expectations, saying: "I'm not interested in being on stages if I am not bringing my people forward, or if I'm not bringing reconciliation forward, or I'm not awakening the mass consciousness of the wider culture. I'm not interested in being anyone's token." Dennis enthusiastically agreed, a date was set, the Grandmothers were excited, and I got to work.
Three years and one pandemic later, the show may now be on a larger stage, but its message and hopes remain.  
What is a Métis Cabaret?
A Métis cabaret essentially allows me to take audiences on a journey – seen through the lens of an Indigenous woman. Through song and stories, I teach you a little Métis history, I take you through a creation story, and I endeavour to further reconciliation and expand the love – as I always attempt to come from a place of love.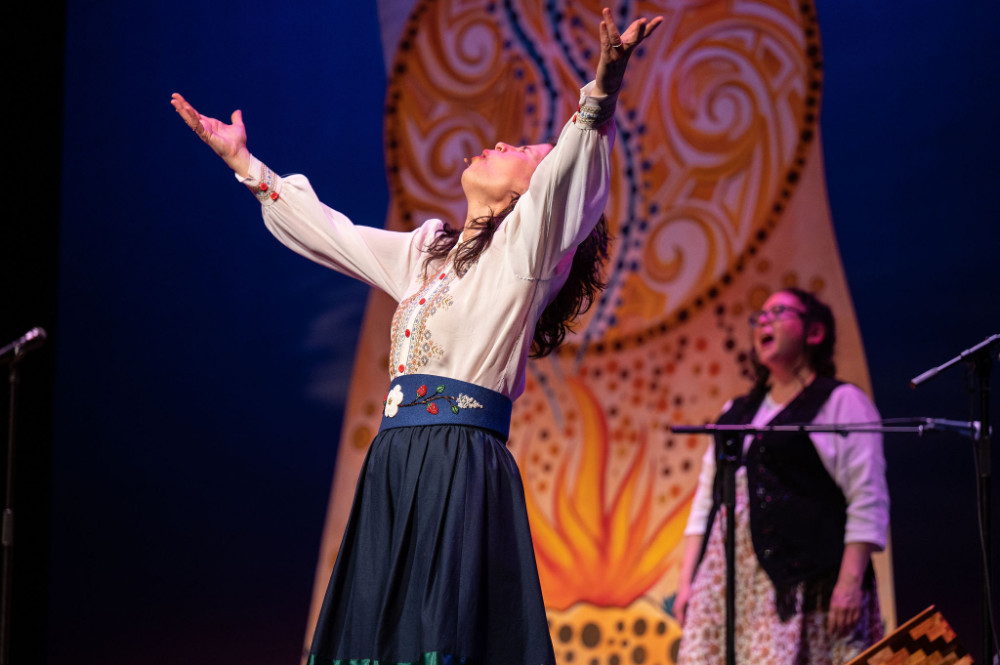 Andrea Menard in Rubaboo. Photo by Dahlia Katz.
What do you hope audiences take away from this show? 
I hope that through Rubaboo audiences recognize that they too are involved in reconciliation. They are involved in making this world a better place – one heart at a time. Yes, we want all systems, racism, and injustice to change. But, this happens one person, one revelation, one consciousness-raising at a time. And so, if I can hold and uplift audiences to a little higher understanding and compassion about what's going on in the world then I will have succeeded.
What is the overarching message/theme of Rubaboo?
There's two actually! One is that Métis people are amazing! (laughing) And, also that we are all a family who need to work together. In this place, we are all relatives, and as relatives we all need to work together as family to make a better world – for my people, for women, and for all people and beings who are not valued, including the Earth.
What do you think will surprise people about this production?
That this show, in the Spriet, is a safe place to learn and to grow – it's not a place where you will feel singled out and shamed.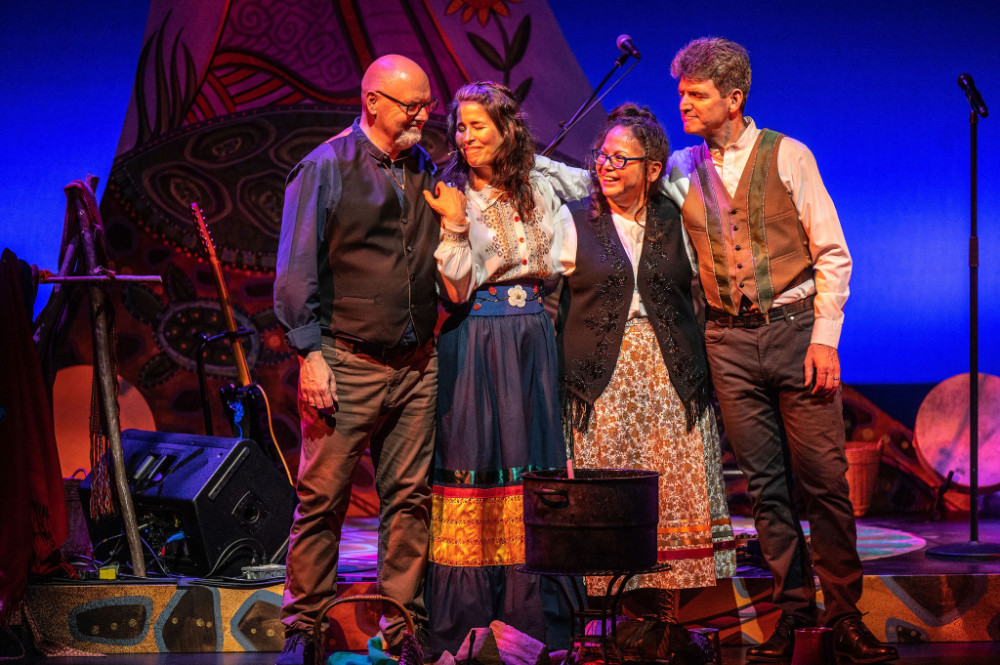 Robert Walsh, Andrea Menard, Karen Shepherd, and Nathen Aswell in Rubaboo. Photo by Dahlia Katz.
Do you have a pre-show ritual?
Yes! Before every show, we say a prayer. It's about getting out of our own way to be clear messengers, so that the audience walks away with what they came to receive.
Do you believe the arts play a role in advancing Truth and Reconciliation?
One-hundred per cent! Because stats, while profoundly important, can leave people cold. But when you see someone sharing their stories, their feelings, their songs, it goes straight past the linear mind right to your empathy and compassion – to the other part of your brain that allows you to have revelations.
Discover further individuals who are making a GRAND impact – on and off the stage