In the Spotlight:
Andrea Scott, Playwright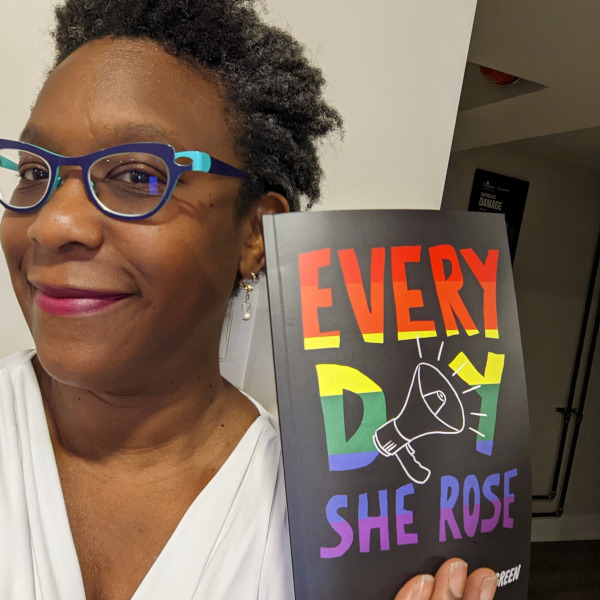 "You can't understand someone until you've walked a mile in their shoes." It's a phrase we have all heard at one point in our lives, as a lesson in empathy and understanding. But how often is this admonition really practiced? And where is its place in today's world?
Inspired to make an impact on the world around her, award-winning playwright Andrea Scott often employs themes of empathy, compassion, and understanding in her work. Grand audiences will experience these first-hand as they watch the remarkable life of Viola Desmond unfold in Andrea's historical drama, Controlled Damage – coming to the Grand's Spriet Stage in January 2023.
Like Controlled Damage, empathy and understanding again take the centre stage in Andrea and Nick Green's freshly published play, Every Day She Rose. Originally produced by Nightwood Theatre, at the Buddies in Bad Times Theatre from November 23 - December 8, 2019, Every Day She Rose was met with outstanding critical reception. The show was intended to continue its run in Montreal but came to an abrupt halt in 2020 due to the COVID-19 pandemic. Yet, over two years later, buzz continues to build for this timely piece of political theatre. In June 2022, just in time for Pride season, we sit down with award-winning playwright, Andrea Scott, to discuss her new co-authored play, checking your privilege, and the importance of communication.
Tell us about Every Day She Rose 
Every Day She Rose started as a simple concept. The play focuses on two lifelong friends and roommates – Cathy-Ann, a Black straight woman and Mark, a gay white man – who attend the 2016 Toronto Pride Parade, where they witness members of the Black Lives Matter (BLM) group stop the parade to protest police brutality against queer Black and Brown people. In the aftermath, the two have very different reactions, and this ultimately fractures their relationship.
Now this was what the play was originally supposed to be. But, through various workshops it morphed and became a metatheatrical play. So, throughout the play, in addition to watching Cathy-Ann and Mark's reactions unfold, we will also see switches to Andrea Scott and Nick Green writing the play together, and hearing their honest, genuine reactions to the issues –revealing the biases and privileges both the characters and writers have.
Who, or what, were your inspirations when writing this play?
It was always Nick Green's idea to write this. In the months following Pride in 2016, Nick heard several problematic things from some of his gay white friends about Black Lives Matter, Black people, and queer Black people. This really gave him pause. He knew there was a play there, but also knew that he couldn't write it himself. So, he approached me over dinner in Toronto's village and presented the idea. I had never written a play with another person before and was up for the challenge. And, let me tell you, it was a challenge!
Personally, my ambition in writing this play was to help amplify the voices of Black women who have felt taken advantage of and used by others. I do not belong to the 2SLGBTQ+ community, but I am a member of the Black community. So, when I am writing, I am speaking for straight Black women, and Black women in general, who have been supporters and friends of Gay white men. I felt like we too should have the safe space to speak out, without feeling shamed or put down, and that this piece was the right space to have that conversation.
Tell us where the play's title comes from?
I wish this was a more inspirational story – but it was actually something I misheard at the gym, on the treadmill, while watching Sunday Morning on CBS. At one point in the program, I heard the host say, "everyday heroes," but I mistakenly heard "Everyday he rose." And, I instantly thought to myself, "Oh! That would be a good title!" I realized that if I changed the gender, I could make it more inclusive of the struggle women face every day. Also, within the gay community, some men like to call each other "girlfriend", "she", and "her", so I thought this may also speak to them. Finally, who doesn't love the idea of an "everyday shero?"  Thus, "Every Day She Rose."
Why centre the play around the PRIDE parade?
The event that happened at Toronto Pride in 2016 was a story that was being played, replayed, and talked about around the world. Yes, it may have happened in Toronto, but its resonance didn't stop in Toronto. And I think a major reason it spread so far and wide was because a lot of people didn't understand what the story really was. Including me in 2016!
The truth of the story, plain and simple, is that BLM were invited guests and requested no uniformed police members at the Pride Parade. Historically, police have a track record for helping some white queer individuals but often neglecting Black and coloured queer people. So, their belief was that if some of us aren't protected, then none of us are protected. Consequently, showing that police are not true allies of the queer community.  
This becomes a central argument in the play. In one of the most pivotal moments of the show, Mark says, "I like having police at the Parade. It's a matter of safety." To which Cathy-Ann replies, "For white people." Here we see two friends – who have known each other their entire lives – who now won't see eye-to-eye, simply because one refuses to see another perspective – and it all started with the Pride Parade. 
What is the central message of the play?
That we have a lot of work to do when it comes to understanding our own privilege! And that just because two people are marginalized, doesn't necessarily mean they are equal or fighting the same battle.
Also central to Every Day She Rose is the importance of communication. Talking and truly listening to others – and not getting defensive – is absolutely key in helping to break through these divisive barriers.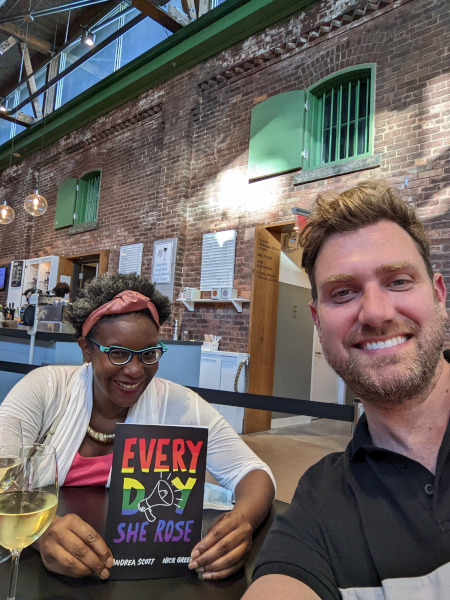 What do you want audiences to take away after reading or seeing this play?
I want people to leave Every Day She Rose ready to have those uncomfortable – but necessary – conversations in their lives. And being ready to have those conversations means being ready to listen and to understand that the person who you might consider your best friend is having experiences you can't possibly understand – that you may never understand. Take a moment to always check yourself; are you being as aware as you could be? Or are you simply being defensive?
Why does this story need to be told today?
As much as I would like to believe that since writing Every Day She Rose in 2016 – a story which shines a light on differences – things have gotten better, they haven't. In my opinion, things have gotten much worse. I mean since we wrote this play, the "Don't Say Gay" Bill has become law in Florida, George Floyd was murdered, Breonna Taylor was murdered, and Roe. V. Wade was struck down in the States. At all angles, hate is being legislated into our lives, whether we like it or not. We are racing backwards to take rights away from people. It is both horrifying and saddening to watch – especially as a Black woman.  
For me, I would like to see this play produced everywhere, so that we can see the humanity in the conversations that are happening in people's living rooms right now. We need to start these uncomfortable conversations to understand that these issues are very nuanced, and we all have a role to play in making things better.  
Every Day She Rose premiered with Nightwood Theatre, November 23 - December 8, 2019, at Buddies in Bad Times Theatre. What was the reception like? And, has that changed over the last three years?
The reception was exceptional! We had 13 reviews, and each was a rave – and that never happens. From our audiences, we received a lot of feedback saying things like, "These conversations need to be had," and "This is what theatre is supposed to do." On the flipside though, we also heard things like, "BLM shouldn't have been there [2016 Pride Parade]," and "This wasn't an issue until Black people made it an issue."
Honestly, I am thrilled that so many loved the play, but I still think it needs to reach more audiences. The message of the play is something more and more people need to hear and understand – now especially.
Like Controlled Damage, this play has a distinct and vital message. Are there any other similarities audiences may observe between the two plays?
I think audiences of both plays will quickly see the historical significance of marginalized people trying to have a voice and being shut down by those in power. They will also see that you can't stop Black women from rising. In Controlled Damage, Viola is constantly trying to rise and do wonderful things in her life but is shut down at every turn. 80 years later in Every Day She Rose, Cathy-Ann also faces this, and yet she too finds the strength to rise and stand up.
What do you hope will be the impact of your work on Black and Queer theatre practice and the future of theatre in Canada?
As someone who has been writing for a long time, I would like all those who produce my work to acknowledge that I am not simply writing about Black people, or coloured people, or white people. I am writing about PEOPLE. The shared experiences we have as people, the things that impact us the most, and the situations that change us. Yes, my writing may focus on Black women, or women, but these are people. And if we are to ever really change as a society then this is something we must acknowledge too for theatre to do its role.
Discover further individuals who are making a GRAND impact – on and off the stage