In the Spotlight:
Brandon Michael Arrington, Actor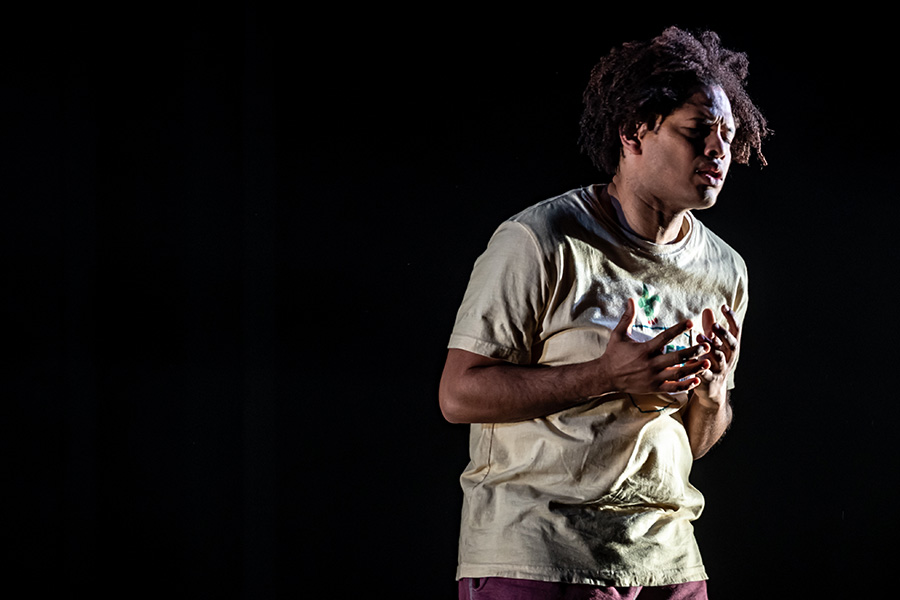 Brandon Michael Arrington in Room. Photo by Dahlia Katz.
During childhood, actor Brandon Michael Arrington moved around a lot. As the son of a Methodist Minister, Arrington travelled both across his home state of North Carolina and the broader United States – from the beaches to the mountains, wherever his father went, his family followed. As a professional actor, Arrington still embraces a nomadic lifestyle, with his most recent travels taking him to the Grand Theatre in London, Ontario to take on the challenging role of SuperJack, in the North American Premiere of ROOM by Emma Donoghue. In February 2022, Arrington speaks with the Grand about ROOM, his love for the production of PETER PAN, and the role of Black History Month in bridging a large gap in our collective history. 
Favourite Play or Musical?
It may be hard to believe, but I love the musical version of Peter Pan by Moose Charlap, Leigh, Comden, Green, and Styne. Yes, like so many Broadway classics, it has its share of problems, which I would love to revisit and revise. Personally, I would really love to play the title role and find ways of exploring the story from the perspective of a person of color – and what that means and says. For example, how can we make this now-classic tale pertinent for multiple generations and a broader audience? There are so many unanswered questions in that piece and a treasure trove of explanations to explore!
What projects are you currently working on or have on the horizon? 
Right now, my main project is Room at the Grand Theatre! I've also been busy composing original music, writing lyrics, and collecting songs for a new album. On top of that, I've been doing more voice-over work and have a couple of exciting projects coming out in the next year or so. I wish I could talk more about them but will have to wait until they have been officially announced!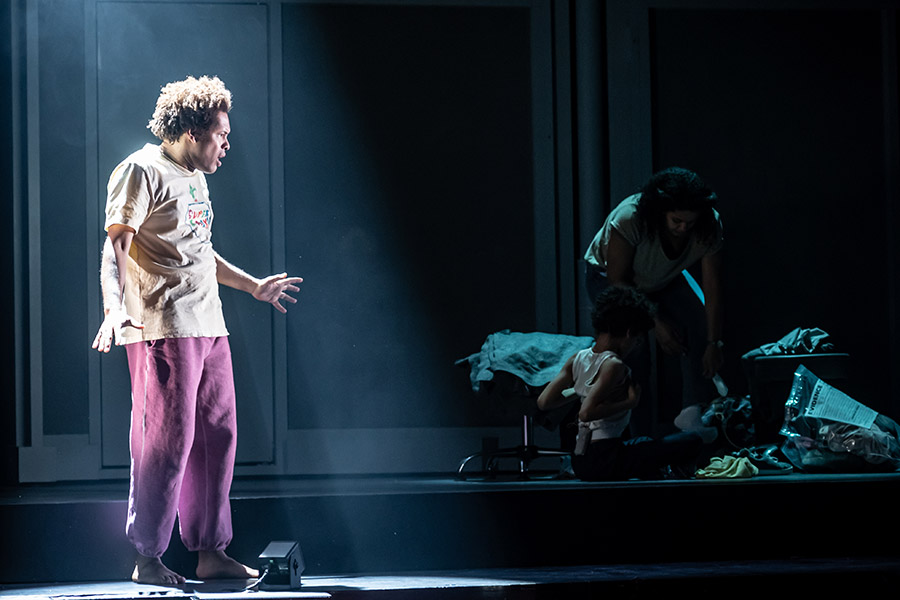 Brandon Michael Arrington, Quinsley Edison, and Alexis Gordon in Room. Photo by Dahlia Katz.
What, or who, inspires you most?  
Ooooh! The "most!?" That's a loaded question and VERY difficult to answer!

My daughter – I want to be like her when I grow up. Her level of grace, vitality, and patience is epic!

My son – who teaches me more about myself daily.

Our Room director, Cora Bissett.

Linda Garneau, our Room movement coach.

My husband, my parents … and actor, VIOLA DAVIS!

This list could go on and on
Why is it important to recognize Black History Month today?
It is important to recognize it today so that in the future it isn't just for today, this week, or this month. It will be every day! It is about recognizing the contributions of Black persons every day as everyone's history, because it simply IS history. It is pertinent and part of all of our stories because we are all connected. None of us stands alone. The problem is that Black history, and the contributions that Black persons have made to society, have not been taught widely.

Recognizing the contributions of Black people to our common lives this month starts a conversation that helps bridge the gap to understanding how much all of our histories are intertwined and inform one another.
What role can The Grand Theatre play in advancing Black rights and better supporting Black communities?
Ask those in the Black community, and its artists, what they want to see on stage and what stories do they want to tell. You'd be surprised. Most people would have no idea that I want to do Peter Pan. Of course, I want, and the theatre community needs to produce plays by such authors as August Wilson, Alice Childress, and Lorraine Hansbury. But, we also want to see works by new masters, like Lynn Nottage, Tarell Alvin McCraney, and Michael R. Jackson.

But please remember, not all Black persons have had the same identical experiences in life just because of our common racial and ethnic background. That's not reality. In that regard, we are like all other people. There may be a collective trauma we share, but we still have differing perspectives to bring to the creative table and share with other familiar and established pieces not by Black authors.
Discover further individuals who are making a GRAND impact – on and off the stage