In the Spotlight:
George Kerhoulas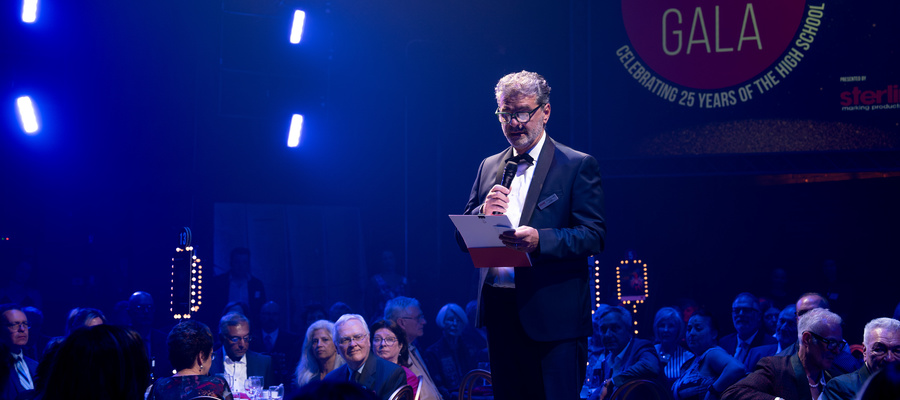 George Kerhoulas at the Grand Gala
George Kerhoulas has always been a fierce advocate for the vitalization of downtown London. A proud, life-long Londoner, the city's core has always been a significant backdrop in the accomplished commercial real estate broker's life. It's where he works, where he once lived, where his family ran a multi-generational business, and where he has dedicated countless hours serving on a multitude of boards and commissions including the Downtown Business Association, Covent Garden Market, London Public Library, London Health Sciences Foundation and many more.
George fondly remembers a time when London's downtown was renowned for its vibrancy and it's something he is determined to see again. Perhaps this is why he was naturally drawn to the Board of Directors for the Grand Theatre, London's cultural hub, located in the heart of downtown. As he embraces this new role as President of the Board, he offers his thoughts on the theatre and its challenges, future, and role in bringing new life to downtown London.
How did you become involved with the Grand?  
I joined the Grand's Foundation Board in 2014 after serving as Chair of the Performing Arts Board in London. I love live, visceral entertainment but admittedly, I was first drawn to the Grand's Board because I believed then – and still do – that theatre and performing arts organizations contribute substantial economic advantages to the city and region. As my involvement grew, I learned the value of the Grand and theatre beyond this economic piece. 
What unique qualities and values does the Grand bring to today's theatre landscape?
I think what many people don't realize is that theatre is often the launching point for many recognizable stars of both television and cinema. This is one of many qualities that theatre in general provides but has definitely been the case at the Grand.
Additionally, the Grand has become a safe place for so many diverse folks to work and visit. It is a quality that I see in-action regularly at the Grand and something the Board will continue to champion.
Finally, what really differentiates the Grand is the stories we choose to put on our stages. We have a solid balance in what we include in a season, but I think there is always room to grow. Ultimately, we want to produce shows that are fun, easy, and entertaining, but also shows that are difficult, challenging, and need to be heard. My goal is to refine that balance – to be important and relevant while also enjoyable and entertaining.
What are your biggest priorities as the new President of the Grand Theatre Board of Directors?
I think that defining and further developing that balance between fiscal responsibility and quality entertainment will remain top of the list in the foreseeable future. We also want to work at convincing a new generation of donors that theatre is an important place to invest their money.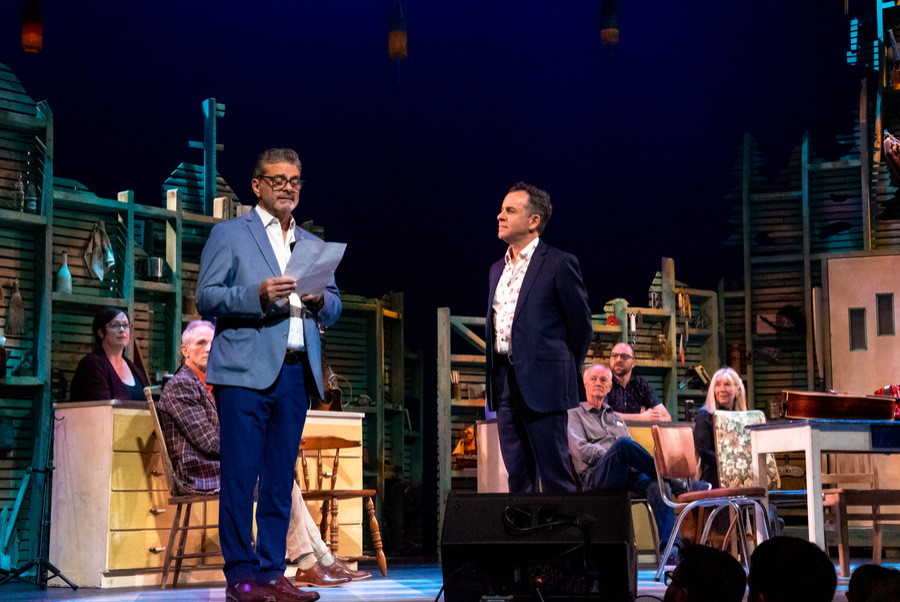 George Kerhoulas, with Dennis Garnhum, speaks on stage on the opening night of East Coast Kitchen Party.
What excites you most about this role?
The Grand has such a strong complement of staff, so it is an honour to take the stewardship of it for a few years. What really excites me about this role is the opportunity to encourage more Londoners to explore what we do and listen to the stories we tell—and to encourage those who may have stepped away from the theatre to come back. The playbill for 2023/24 has a great balance of shows and is already receiving a lot of positive attention. I have heard numerous comments saying, "I stopped subscribing, but now I'm back." It's a sign we're clearly doing the right thing.
While we will miss Dennis and all that he has brought to the Grand, I am also excited to see what the new Artistic Director will bring to the company and how they will maintain our strong trajectory.
What do you think is the biggest challenge facing our theatre?
Our biggest challenge is not only convincing people to try us out, but also to bring their children and cultivate a new generation of theatre patrons. There is so much value in bringing young people to the theatre, even if they don't fully get what they are seeing. You really don't have to understand every part of a story to experience something visceral and have it change you in some way.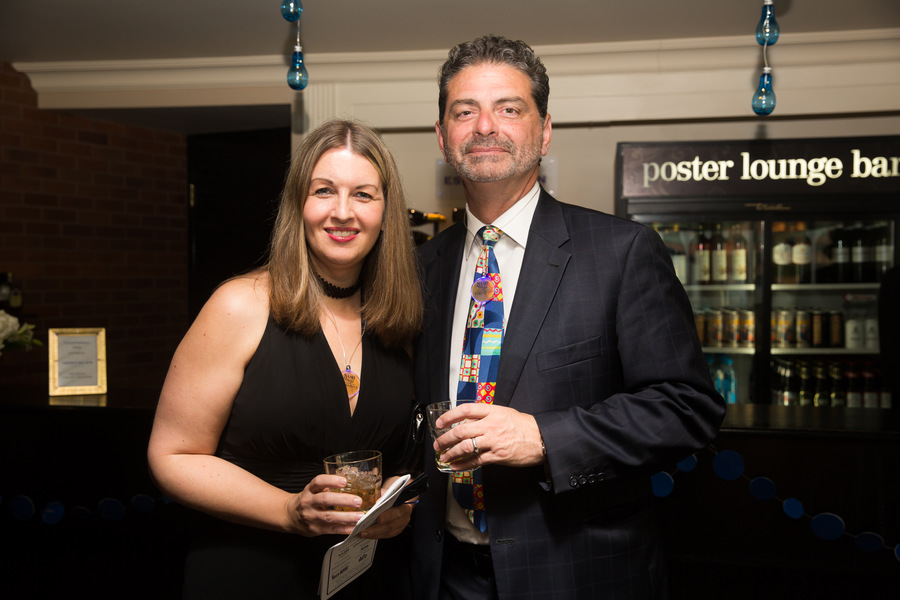 Susan Nickle and George Kerhoulas
What does the future of the Grand Theatre look like to you?
For me, I want whatever happens in this building to be generated by a diverse group of people and to have that work embraced by a broad audience composed of all Londoners. It's important that we reflect our community and create opportunities for people who didn't have them before, and I truly think we are en route to that now.
Furthermore, I do think the future will see a rise in subscriptions and ticket sales with Londoners returning to the theatre. They went away for three years, and now we need to convince people to come back, to spend a few hours of their free time with us.
What is your favourite Grand memory?
My favourite Grand memory involves the time I won a walk-on role for my daughter on Miracle on 34th Street when she was only 10. The little girl that I saw disappear into wardrobe and reappear on stage evolved to become a different person. It was a moment where the impact of theatre and the theatrical experience came to life.
What is your favourite Grand play?
Oh, that's a tough one! From recent years' productions, it would either be BOOM X or Fall On Your Knees. I am generally not a fan of long productions, but I could not get enough of that brilliant show. It was six hours, but honestly it could have seen it again and again. 
Discover further individuals who are making a GRAND impact – on and off the stage