In the Spotlight:
Masini McDermott, Actor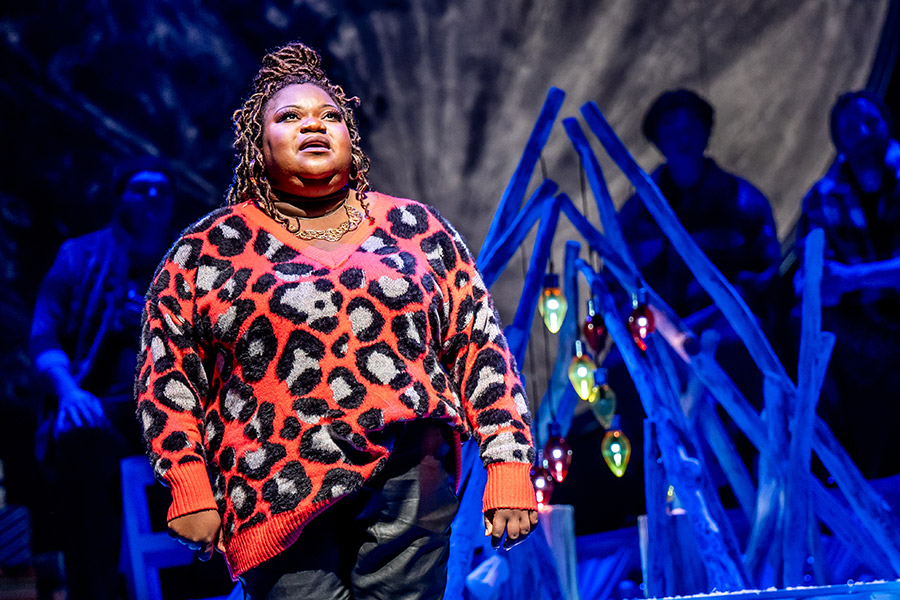 Masini McDermott in Home for the Holidays. Photo by Dahlia Katz.
It's hard to imagine the Grand's 2021 holiday production, HOME FOR THE HOLIDAYS, and not quickly recall the incredible voice and presence of actor, Masini McDermott. The Toronto-born sensation made her Grand debut in the Theatre's holiday production, and is set to be back on the Spriet Stage in April 2022 for the world premiere of GROW! Leading up to her much-anticipated return to the Grand, in February 2022 she provides her thoughts on musical theatre, future projects, and creating space for Canada's Black community to safely showcase their artistic gifts. 
Favourite Play or Musical?
My favourite musical, hands down, is The Color Purple.
What projects are you currently working on or have on the horizon? 
Right now, I am excited to be preparing to return to the Grand for the world premiere of GROW! I'm also in the discovery phase of creating my new clothing line, which will be launching on June 3, 2022 – my birthday!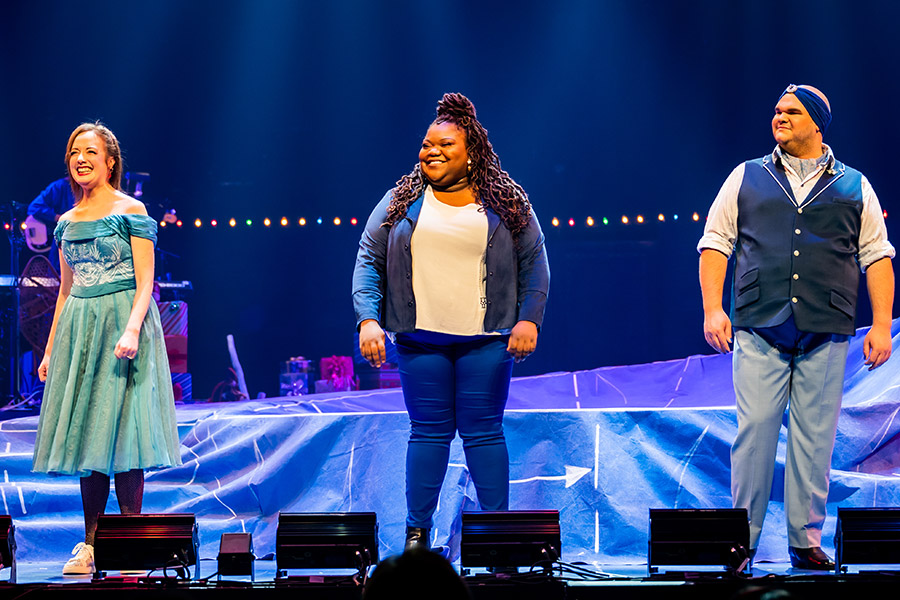 Gabi Epstein, Masini McDermott, and Jacob MacInnis in Home for the Holidays. Photo by Dahlia Katz.
What, or who, inspires you most?  
My mother inspires me daily. Additionally, my fellow creatives have also been a source of great inspiration lately. Witnessing their drive and passion has only made me want to continue to grow and create more – both on and off the stage.
Why is it important to recognize Black History Month today?
Black History Month is so important to not only acknowledge the constant strides Black people have made in the past, but to also uplift Black culture in our present day. I hope that Black History Month continues to inspire people to learn, celebrate, and acknowledge the contributions that Black people have made to society – even through our constant oppression and daily hardships. I do hope it's known that Blackness lasts more than a month. With that in mind, I really hope that we, as a collective society, get to a place where the acknowledgement of Black culture surpasses the 28 calendar days in February.
What role can The Grand Theatre play in advancing Black rights and better supporting Black communities?
Not only is it important to display Black art on and off the stage in the Grand's programming, but casting Black artists in shows that are usually predominantly white is a big step forward. Unfortunately, there aren't many Black-produced shows that don't have trauma at their roots. So, creating space for Black people, and all people of colour, to showcase their gifts, without the burden of emotional trauma, is more than welcomed.

In addition to having more Black representation onstage, it is also so important to have it offstage to help to create a trustworthy space. As a visible minority, when there is no one that you can turn to for a shared experience, that can feel like an unsafe space – especially for an artist or general staff member needing advice, support, or an ear to listen and understand. We need to consistently create space for actual diversity and leave behind the oppressive ideology of tokenism. Dismantling tokenism in artistic spaces is the beginning of actual change for not only black people, but all people of colour.
Discover further individuals who are making a GRAND impact – on and off the stage