Staying True to the Woods
Get to Know: Saccha Dennis and Greg Carruthers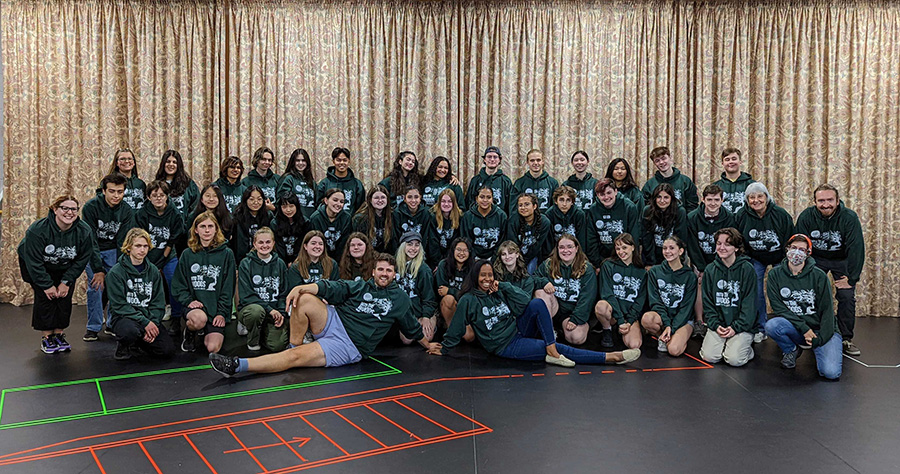 Theatre is changing. Across the globe, artists are reshaping the way theatre is created and presented in both invigorating and surprising ways. The goal? To enhance accessibility and dismantle stereotyping. In Canada, two notable artists leading the charge in this area are actor and director, Saccha Dennis and actor and choreographer, Greg Carruthers.
After having worked together on three musicals and two films, beginning in August 2022 the duo will set their sights on their grandest project to date: The Grand Theatre's High School Project production of Into the Woods. Sharing a central vision for an inclusive future of theatre, the production is certain to break the boundaries of traditional performance. But, will it remain true to the woods?
What inspired you to direct and choreograph Into the Woods?
Saccha: I have never directed or acted in Into the Woods before. Quite frankly, I have feared Sondheim's work for many years – it really is on another level. But after his passing, I found myself connecting more and more to his material, and seeing the brilliance and message of Into the Woods so clearly. So, when the opportunity came to direct, I knew I had to jump on it.
Greg: This is my first experience with the iconic Into the Woods. What I love about this show is its built-in magic and possibilities. Shows like this are so incredible to work on as a choreographer as they allow for great imagination and non-traditional movement. When you think of Into the Woods, traditionally there isn't much choreography. But, ours will. Already, it has made me think outside of the choreographer box and focus more on movement. It challenges me to not just rely on kick, ball changes. I need to rely on movement that is more authentic and true to the Woods.
How is this production going to differ from any other production of Into the Woods?
Saccha: While I don't want to give too much away, I can say that books will play an important part in this production – more than you would traditionally see in Into the Woods. Also, you have to remember that our students haven't been able to participate in anything like this over the last two years, so I think that their enthusiasm and excitement will be electrifying and bring a whole new essence to the show.
Greg: Our production is set in a world where you don't traditionally see Into the Woods. It has given us a lot of freedom about the way we both introduce the woods, and how we actually get into the woods. It will be something that you will have never seen before. But, it will really rely on the enthusiasm and wonder of the students to truly suck you into the wonder of this world.
What will high school students bring to this production?
Saccha: Students are so in-tune, intuitive, and very intelligent about how they express themselves and understand art today. As a director, that is a huge gift. There are also many themes in this show that students can relate to – both artistically and personally – that I believe will give them an advantage when approaching the work.
Greg: Students today are obsessed with musical theatre! These are smart, strong, and talented kids, who are bursting with passion. THIS is their advantage. Through their youthful enthusiasm, these kids will bring you back to the root of the show: childhood wonder, strange situations, and magic.
Favourite line or song from the show?
Saccha: "Stay with Me," the witch's song, is such a great piece! As a mother myself, I unfortunately can relate to the feeling of your kids growing up and not needing you as much anymore.
Greg: The Opening! It is so brilliant in the way that it introduces all the characters and immediately immerses audiences into the story.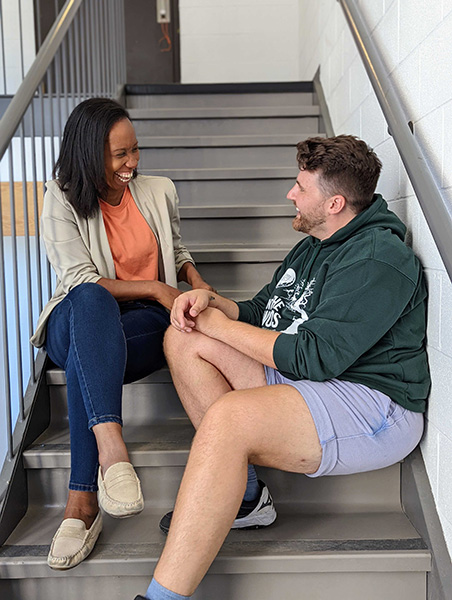 Why is the High School Project still important today?
Saccha: This program is so crucial for students in their transformative years. It calls out to them and allows them to discover who they are and what they want. It's an honour to be a part of that tradition and legacy.
Greg: After signing on to Into the Woods, I have realized that so many of my colleagues have also been a part of the High School Project. This program does a great job at connecting the theatre with the London community, while also giving high school students their first professional experience. My first professional experience was at 15 – it was life-changing and the reason I am still doing theatre today.
Greg, tell us about your theatre company and advocacy group, EveryBODY on Stage. How will you be using your insights from this program in ITW?
Greg: EveryBODY on Stage is an advocacy platform and production company, which advocates for body diversity in theatre and works to end anti-fat bias. Basically, we try to help theatres rethink the way they cast, and what roles plus-sized people are typically cast. We believe that it is time for size discrimination to be quelled, to take back theatre, and show that there is space for everyone in the arts.
The beautiful thing about the High School Project is that we get to work with young people, who have not yet attended theatre school or worked in the industry. Because of this, we get to help guide them into not being stereotyped and ultimately drive them to be whatever they want to be. Our goal is to inspire the students to dream big and really fall in love with theatre – that way they will be ready to take on anything the industry may throw at them.
Saccha, tell us about Musicals Reimagined? How will you be using your insights from this program in ITW?
Saccha: Musicals Reimagined is a platform to discuss the theatre industry, and ways we can see theatre and theatre practices done differently. It's really a public director's vision board, where audiences can see projects and issues I want to tackle and address – particularly when it comes to inclusivity in Canada and musical theatre.
I always try to bring ideas of seeing classics done differently to every show – and Into the Woods is no exception. Our production will present the same story that people know and love; it will just have a few new spins! Certainly, I am proud of the diversity that has been created in this cast. And not just necessarily colour-based, but also through body diversity, gender and sexuality.  
Saccha, what advice would you offer aspiring directors?
Saccha: Just do it! The only person who limits yourself is yourself. So, if you want to direct, just try. Especially for young people: this is your time to try as much as possible to see exactly what fits and inspires you.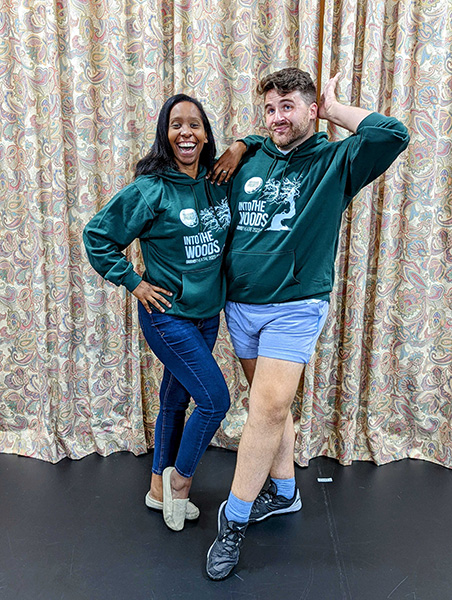 Greg, what advice would you offer aspiring choreographers?
Greg: For me personally, my experience as a dancer was fraught with people telling me I didn't belong because of the body I lived in. Now, as a choreographer, I get to create joyful movement for all bodies. I want people to remember that just because the industry doesn't make space for you, doesn't mean that you don't get to be a part of the industry. You just need to be more creative in your work. You need to find another way. And, most importantly, you need to always show up and be authentic.
Do you believe that the HSP is designed to inspire a new generation of theatre artists, or about giving them a voice today?
Saccha: It's both! Art is what helps us heal and think today. But I also think that young people don't often feel that they have permission to play. Or, even permission to be themselves. Giving them a platform to explore, and then to showcase this to audiences, not only gives them a more authentic voice, but inspires more and more young people to be themselves and pursue the arts.
Greg: It's about inspiring a community! While this project definitely inspires new artists, it also does a fantastic job of bringing community to the Theatre, and ultimately inspiring others to become patrons and theatre-lovers for life.
An enormous bean stalk grows to the sky in your home town, with whispers of riches at the top. Do you climb up?
Saccha: I don't like heights, so probably not! But the curious part of my brain may take over and make me try.
Greg: In this economy? Absolutely I climb! I have done crazier things for less promise of wealth.
Choose one of the following to possess: a cow as white as milk, a cape as red as blood, hair as yellow as corn, and a slipper as pure as gold.
Saccha: I don't know why I am drawn to this, but hair.
Greg: The slipper makes the most financial sense, but I am going with the red cape. It's a look!
Discover further individuals who are making a GRAND impact – on and off the stage