In the Spotlight:
Zorana Sadiq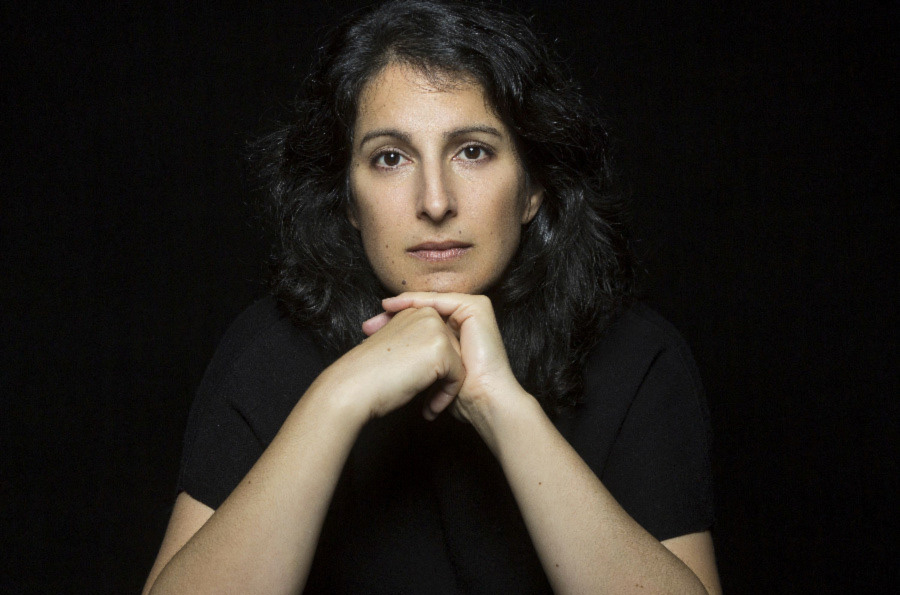 Can you remember swaying to the melody of Hotel California on a hot summer night? What about belting out the chorus of Sweet Caroline with a group of friends? Or closing out a wedding by air-guitaring Stairway to Heaven? Whatever the song, music and sounds have a way of connecting you to moments in time, and instantly transporting you to cherished and lost memories.
It is this tenet that shapes Zorana Sadiq's three-time Dora-nominated show MixTape. Playing on the Grand's Auburn Stage from November 8th – 13th, MixTape takes audiences on an auditory voyage as the multitalented Sadiq presents the sounds and music that shaped the mixtape of her life.
But what inspired Sadiq to create this compelling solo show? And, what should audiences expect from the acclaimed production? Sadiq provides the exclusive on this and more – leaving no note unsung.
Who, or what, inspired you to create MixTape?
I have always been obsessed with sound. As a singing teacher, singer, performer, and arts educator, I am constantly struck by the beauty and intricacy of sound. Clearly my passion was obvious to those around me, as it got to the point where my friends would joke and say that I should write about it. So, I did.
At first, the writing was just for me. A personal reflection. But, one day I ended up showing a sample to my good friend Liisa Repo-Martell, who also happens to be the wife of Chris Abraham (Artistic Director at Crow's Theatre). I swore her to secrecy and told her not to tell a single soul about it. But, of course, she promptly went home and gave Chris all the details. Literally that very day, Chris called me and asked to hear a reading of the play. Which I did. About four nerve-wracking weeks later, he invited me to be the Creator-In-Residence at Crow's and to develop the play.
MixTape has been described as "a personal exploration of your life – experienced through sound." What does this mean?
When someone goes on a vacation, they often make a photo album that offers all the highlights of the trip. Ultimately, this photo album is a personal and visual form of storytelling. So, in MixTape I take the same idea of a photo album, but I flip it. So, instead of presenting an audience with a pictorial album of my life, I share my personal narrative through songs that I have heard and the sounds that I make – a mixtape!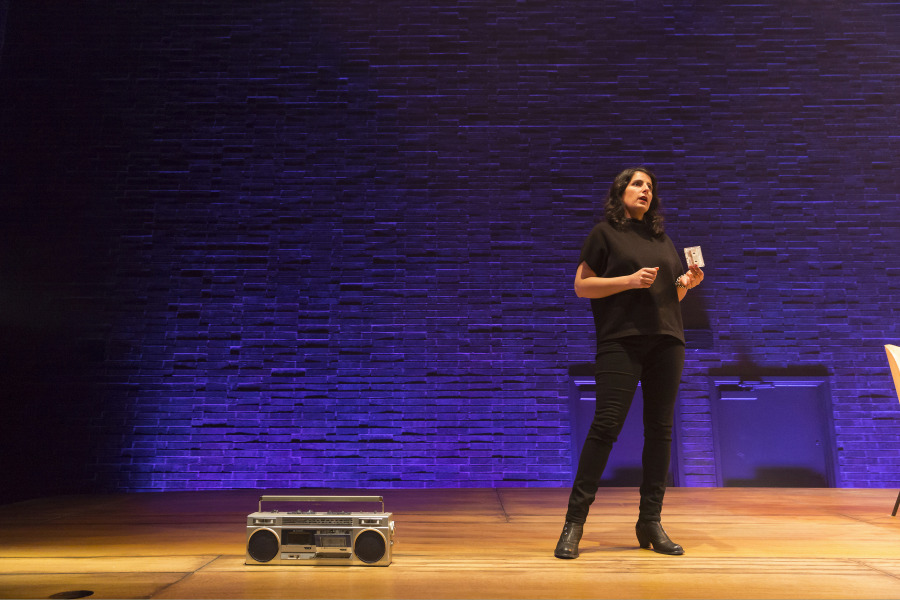 What is the overarching message/theme of MixTape?
I mean this in an essential way: how important the arts are. They save us. Clarify us. They mirror back to us in a way that is so much more than just entertainment. I think during the pandemic, when we lost live performance art, and watched both good and bad Netflix shows at home, we all started to realize how different it is to be in a performative space and witness art together. Art really does save us and it makes us more understood to ourselves.
MixTape was first performed at Crow's Theatre in Toronto, and feels like the kind of show one would see in big cities, like New York or Chicago. How do you think London's audiences with respond to your show? And, what do you want Grand audiences to take away from MixTape?
While MixTape was made and premiered in Toronto, this show is truly universal. We all have songs we remember: the first song at our wedding, the last song at a school dance, the first song we listened to over-and-over again. We all have those – both in the biggest cities and the smallest towns. Also, I want to be clear: this is not a show about good or bad music. This is about our deep love for sound and music – be that polkas from the 1940's or Kenny G's soprano saxophone. Everyone has their favourite music. It's that love and interaction with songs that I want people to resonate with. Anyone who has a favourite song, this show is for them.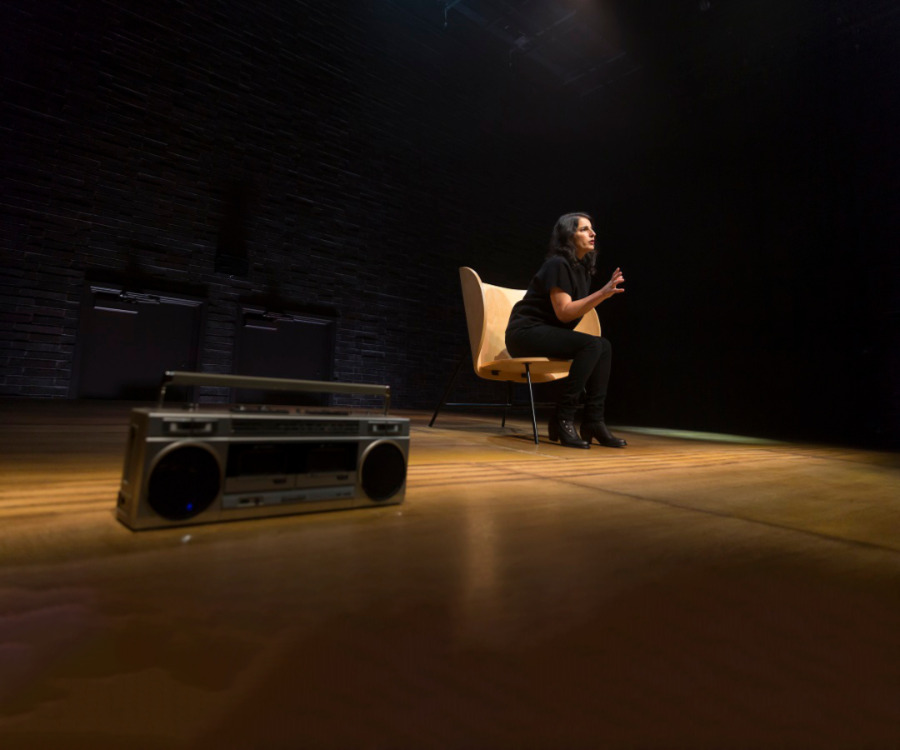 As a performer, how does performing solo compare to performing within an ensemble?
For me, the one-person show is a conversation between you and your scene partner, which is the audience. It so happens that before I started performing MixTape last year, I was so worried that I would be exhausted. Just me on stage for 90 minutes? What if I get tired? What if the audience doesn't react? But I love talking to people, so I would come off stage with so much energy, feeling like I could do it three more times.
Being in this one-person show is a delight. But, you do have to be brave. Brave to reveal yourself and truly face your audience.
What do you mean when you say, "listening is an act of love?"
When we are talking to someone and they aren't listening to us, we feel small and misunderstood. So, in those moments when someone is actually listening to us, they are actively showing us their love. By giving someone all your attention, truly hearing their words, how they say things, and not waiting for the moment to jump in with what you will say next – this is something so remarkable, so tender, and so caring.  I think we feel understood when someone fully listens to us.
So, when you do, that is an incredible act of love.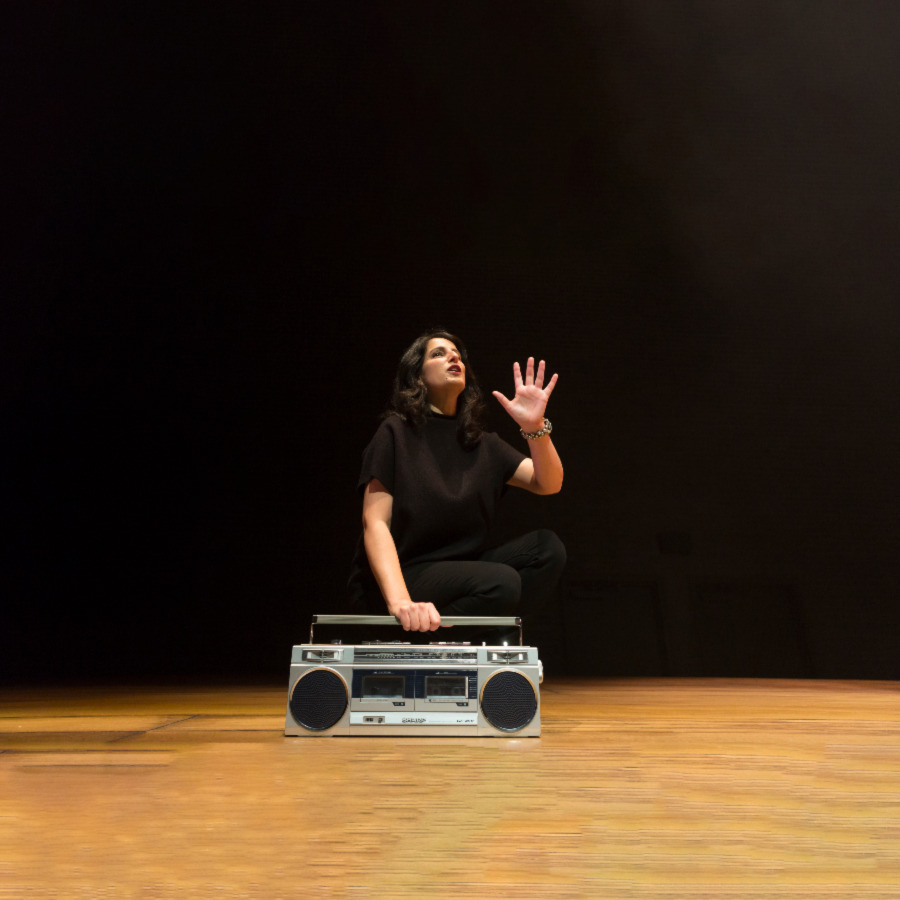 How did you feel when you discovered that MixTape was nominated for 3 Dora Mavor Moore Awards?
Oh my gosh! It felt so nice. I have never written a show before, so to have it nominated was a serious honour. While I was excited for my acting nomination, I was almost more excited that lighting and sound were nominated too – it showed that it was a full and well-rounded production.
When did you make your first mixtape? And, what was on it?
I don't really remember when – likely Grade 7 and 8, just before CDs took over the game. I know I recorded it on my double cassette player and that there was a lot of Michael Jackson, Janet Jackson, Prince, and Kate Bush. But I would always stick some classical pieces between the pop pieces. Because that's my taste and is still is. If a mixtape is the metaphor for life, often really different things are pushed back to back. Life isn't one constant aesthetic – it's a wild mix, it's Prince's Little Red Corvette, and Bach's Cello Suites, side by each. 
Discover further individuals who are making a GRAND impact – on and off the stage