Stage Adaptation of the Iconic Canadian Novel Fall on Your Knees to Premiere In 2023
Five theatre companies partner to bring production based on Ann-Marie MacDonald's internationally acclaimed novel to four cities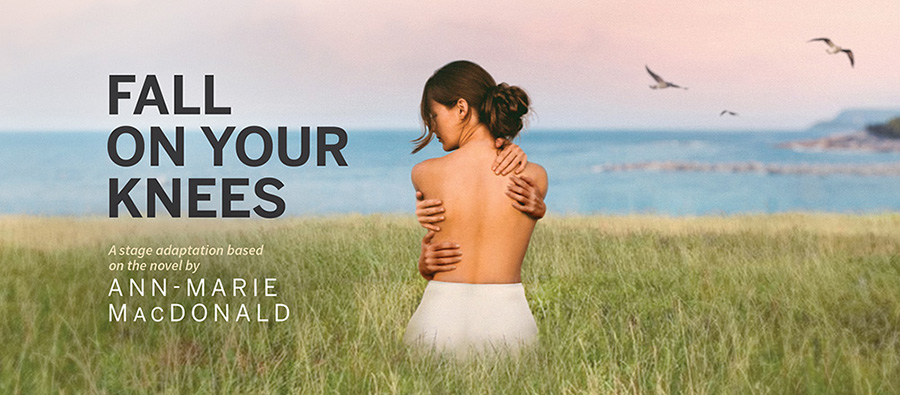 March 3, 2022 – OTTAWA – National Arts Centre English Theatre, Vita Brevis Arts, Canadian Stage (Toronto), Grand Theatre (London, ON) and Neptune Theatre (Halifax) today announced an unprecedented partnership that will bring the world premiere stage adaptation of the Canadian classic Fall on Your Knees to four cities – Toronto, London, Ottawa and Halifax – beginning in 2023.
Written by the internationally acclaimed Canadian writer Ann-Marie MacDonald, Fall on Your Knees is a sweeping novel that chronicles three generations of Cape Breton Island's Piper family. The story moves from the battlefields of the First World War to the emerging jazz scene in Harlem, NY, and into the lives of four unforgettable sisters.
Released in 1996, the book won multiple awards, including the Commonwealth Writers Prize for Best First Book; the Canadian Authors Association Award for Fiction; CBA Libris People's Choice Award and the CBA Libris Award for Fiction Book of the Year. The novel was also a finalist for a number of prestigious literary awards, including the Giller Prize, the Chapters/Books in Canada First Novel Award and the Trillium Book Award, the Orange Prize for Fiction, the International IMPAC Dublin Literary Award, and was selected for the hugely popular Oprah's Book Club.
ADAPTING A CANADIAN MASTERPIECE FOR THE STAGE
Ambitious creation projects like the adaptation of Fall on Your Knees take many years to develop.
The idea germinated with the renowned Canadian theatre artists Alisa Palmer, who approached Hannah Moscovitch more than 10 years ago. Under the umbrella of Palmer's company Vita Brevis Arts, a unique development process began. Over the next several years with support from the National Arts Centre, the Shaw Festival, Citadel Theatre (Edmonton), New York Theater Workshop, and Mirvish Productions (Toronto) the development of Fall on Your Knees has engaged the talents of some of Canada's top theatre artists, as they translated the power of MacDonald's novel to the stage. 
"Ten years ago, I was inspired to adapt Fall on Your Knees as a piece of music-driven theatre. The story, beloved and disturbing, painful and joyful, speaks all the more urgently now," said Alisa Palmer, who is directing and adapting the production. "I'm incredibly fortunate to be working with the brilliant playwright Hannah Moscovitch, and a formidable creative team so Fall on Your Knees will speak as powerfully from the stage as it has from the page."
The artists continued to work on the adaptation. Then, in 2018, the NAC's National Creation Fund, which invests in the development of ambitious new Canadian works in theatre, dance, music, and inter-disciplinary performing arts, made a substantial investment in Fall on Your Knees. The National Arts Centre Foundation secured a lead gift from David and Margaret Fountain of Halifax; and the creative team obtained a Development/Production grant from the Canada Council for the Arts. 
"The main thing that goes into developing an iconic beloved story is a huge amount of work. A lot of the work we did was to figure out how to transform a book - an object you can hold in your hands - into a temporal-spacial event.," said Hannah Moscovitch, the playwright of Fall on Your Knees. " We wanted our adaptation to be a work of art, and not just render the book onto the stage. That meant we needed a rigorous collaboration between all the artists working on the adaptation to make the show a music-driven, image-driven, and story-driven experience."
In 2019, the creative team led major workshops of the production, and in 2021, the National Arts Centre supported and hosted a week-long production and design workshop at the NAC. 
Finally, in the fall of 2021, three co-producing theatres – Canadian Stage, Neptune Theatre and the Grand Theatre – came aboard to present Fall on Your Knees on their stages as part of their 2022–2023 seasons.
"Seeing Fall On Your Knees brought to fruition as a piece of theatre is the fulfillment of a process that began long ago when I first started writing what would become the novel.  Fall On Your Knees began, in my mind, as a play.  This makes sense because I was, and am, a playwright," Ann-Marie MacDonald said. " I ended up bringing the story to light as a novel, but I've always cherished the vision of it as a three-dimensional experience for a live audience.  I am so grateful to all the incredibly talented artists, especially Hannah Moscovitch and Alisa Palmer, for boldly and beautifully bringing it to life."
SUPPORT FOR THE PRODUCTION
Transforming an inspired idea into a large-scale creation for the stage is only possible with major financial and artistic support. Lead donors David and Margaret Fountain have enabled five Canadian theatre companies to co-produce a uniquely Canadian story that will be seen by a wide, national audience across four cities.
"During the best of times and the worst of times, the performing arts have always provided us with entertainment, inspiration, diversion and a means to experience the joy of being alive.  We are proud to be a part of making this landmark theatrical project possible," said Mr. and Mrs. Fountain.  Added Margaret, "Fall on Your Knees is one of my favourite books, and when the National Arts Centre approached us with the proposal of turning this important Canadian novel into a play, I was inspired by the idea of the story coming to life on stage."
A significant investment from the NAC's National Creation Fund made the development workshops possible. Marking its fifth year in 2022 and fuelled entirely by generous donors from across the country, the National Creation Fund invests in the development of compelling and ambitious new Canadian works. Heather Moore, Executive Producer of the Fund, said the chance to invest in Fall on Your Knees and bring it to the stage was irresistible.
"The creative team came to us with a bold vision for Fall on Your Knees, and it is exactly the kind of project that the National Creation Fund was designed to support," Heather Moore said. "The Fund is about investing in the creation process, giving artists the exceptional time and resources they need to bring a production to its full potential.  We can't wait to see the results of their hard work on Canadian stages next season." 
In addition, this generous support may allow opportunities for future performances following premiere productions in 2023.
FALL ON YOUR KNEES PERFORMANCES
Fall on Your Knees will be presented in two parts, allowing audiences to enjoy two extraordinary evenings at the theatre.
Ticket and performance schedule information will be announced during each theatre company's 2022–2023 season announcements. Casting for this production will be announced in the coming months.
The National Arts Centre, Vita Brevis Arts, Canadian Stage, Neptune Theatre, the Grand Theatre production of
Fall on Your Knees
Adaptation for the stage by Hannah Moscovitch and Alisa Palmer
Production Dramaturgy by Mel Hague
Based on the Novel by Ann-Marie MacDonald 
Lead donors Margaret Fountain, C.M., DFA (h) & David Fountain, C.M. 
Developed with support from the National Arts Centre's National Creation Fund
We acknowledge the support of the Canada Council for the Arts and Toronto Arts Council
ABOUT THE NATIONAL ARTS CENTRE
The National Arts Centre (NAC) is Canada's bilingual, multi-disciplinary home for the performing arts. The NAC presents, creates, produces, and co-produces performing arts programming in various streams—the NAC Orchestra, Dance, English Theatre, French Theatre, Indigenous Theatre, and Popular Music and Variety—and nurtures the next generation of audiences and artists from across Canada. The NAC is located in the National Capital Region on the unceded territory of the Algonquin Anishinabeg Nation. 
ABOUT VITA BREVIS ARTS
Vita Brevis Arts (VBA) was founded by Alisa Palmer to support the development of unusual theatre projects, aimed for larger spaces and audiences. VBA was created to support projects that are ambitious in scope, urgent in content and that have the capacity to speak to diverse audiences in a highly theatrical and sensually rich language. Inclusive and artistically excellent storytelling is at the heart of VBA's mission. In practice, VBA partners with established theatre companies and helps to realize projects that may be outside the box: to curate artist - driven development processes outside traditional development models, and which require sensitivity to culturally specific material. VBA is comprised of producers Alisa Palmer, Paul Beauchamp, and Patricia Cerra.
ABOUT CANADIAN STAGE
Canadian Stage is one of the country's leading contemporary performing arts organizations. A collision of disciplines and cultures, Canadian Stage reflects the dynamism and complexity of Canada and is a vital artistic force locally, nationally, and internationally. In its over thirty-year history, Canadian Stage has employed thousands of artists and developed and produced hundreds of new productions. Many of the plays developed by Canadian Stage have been awarded and nominated for Canada's most prestigious literary and performing arts honours, including Governor General's, Chalmers, and Dora Mavor Moore Awards. Throughout the theatre season, nearly 100,000 patrons attend performances and workshops in its three Toronto venues.
ABOUT THE GRAND THEATRE
Under the leadership of Artistic Director Dennis Garnhum and Executive Director Deb Harvey, the Grand Theatre (the Grand) is a leading cultural hub located in the heart of downtown London, Ontario. The not-for-profit regional theatre offers diverse, relevant, and original stories from around the globe through collaborations with national and international performing arts organizations. The Grand is committed to developing, producing, and premiering original stories through its COMPASS New Play Development program. Further, it is an ardent supporter of educational programming, as demonstrated through initiatives like the High School Project and Subsidized Student Matinees.
ABOUT NEPTUNE THEATRE
Neptune Theatre is Atlantic Canada's regional theatre, now in its 59th season. On our stages you'll experience theatre that is uplifting and thought-provoking. Working with the best local, regional and Canadian theatre professionals, we seek to present a thought-provoking playbill that amplifies creative voices, inspires future generations of theatre artists, and delights audiences.  With a mindful and inclusive approach, we are committed to bringing stories that represent the history and diversity of our region and its people to life on our stages. The work created and presented at Neptune explores our rich history and diversity, builds understanding, and shapes dialogue, helping to create a stronger, connected community.
FOR MORE INFORMATION:   
Sean Fitzpatrick
Communications Strategist
National Arts Centre English Theatre
613 899-9737
sean.fitzpatrick [at] nac-cna.ca (sean[dot]fitzpatrick[at]nac-cna[dot]ca)
Mireille Allaire
Senior Manager, Strategy and Communications
National Arts Centre
343-998-4244
Mireille.allaire [at] nac-can.ca (mireille[dot]allaire[at]nac-cna[dot]ca)