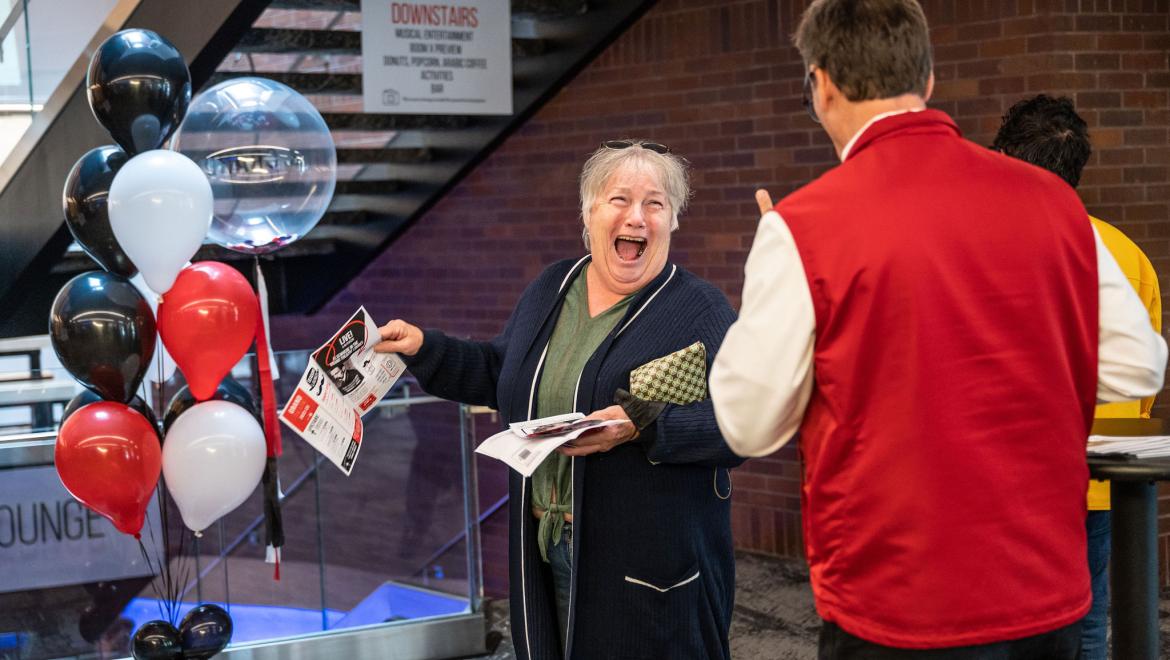 Ways to Give
The Arts Will Lift Us Up!
Thank you for considering a donation to support the work of the Grand Theatre. In this time of ongoing uncertainty, there is one thing that we know for sure: the transformative power of the shared experience of live theatre is more important that ever before.
There are many ways to make a personal donation and we would be happy to speak to you about what works best for you.
Every donation - every single dollar - helps keep the Grand viable as we look ahead to when the seats are again full of audience members ready to be inspired, entertained and captivated by the magic of live theatre.
Thank you so much for your generosity.
Ways to Give
One-Time Donations

Online: Donate Now using your credit card

Phone: Make a donation over the phone using your credit card by calling Jacob Wiley in our Development Office, at 519-672-9030 x245

Mail: A cheque made out the Grand Theatre can be mailed to the address below:

ATTN: Development Department
Grand Theatre
471 Richmond St.
London ON, N6A 3E4

In Person: Visit one of our Box Office Representatives during Box Office hours to make a donation using cash, debit, credit or cheque.

Monthly Donations

Donating monthly or on a fixed schedule is an easy way to spread your donation over whatever time period you choose. Please contact Jacob Wiley in our Development office via email jwiley [at] grandtheatre.com or by phone 519-672-9030 x 245 to set up a monthly pledge using your credit card.

Monthly donations are processed on or around the end of each month but this date can be adjusted to your needs.

Charitable donation receipts are issued at the end of the pledge period for the total amount of your donation.

Gifts of Securities

Donations of securities (shares) is an effective way to make a donation to the Grand Theatre. Securities include stocks, bonds, mutual funds, segregated funds, flow-through shares and employee stock options. When you give a gift of publicly traded securities, you are exempt from paying tax on the realized capital gain and receive a charitable receipt for the full amount of your donation.

Gifts of securities can be made now or may also be set up as a pledge or gift in your will.

Here is a step by step process on how to make a gift of securities:

Contact the Development Department at the Grand Theatre and advise us that you would like to make a gift of securities and complete this form.
If you work with an investment advisor, inform them of your plans to make a gift of securities. They can assist you in filling out this form.
If you self-manage your investments, we can assist you to complete this form and guide you through the transfer process if necessary.
Your advisor or investment firm will contact our brokerage firm representative to complete the transfer
A charitable donation receipt will be issued to you for the closing price of the securities on the day that they are received by the Grand Theatre's brokerage firm.
When preparing your tax returns for the current year, complete the Capital Gains on Gifts of Certain Capital Property Form from Canada Revenue Agency.

Speak with your financial advisor to determine what makes financial sense for you. Your adviser can help you make a gift of securities by completing the Charitable Donations of Securities Form.

Please email or phone Jacob Wiley (jwiley [at] grandtheatre.com x245) in our Development office to advise us of your forthcoming donation.

A Gift in Your Will

Leaving a Gift in your Will

Leaving a gift to the Grand Theatre as a bequest in your Will, demonstrates your wish to ensure that future generations will benefit from having a strong, vibrant and viable theatre and arts community in our city.  A gift in your Will (Planned Gift) is the ultimate expression of caring for an organization.

There are many ways for you to make a gift in this way:

Gift Options

Bequests (donation through your will)
Listed Securities
Life Insurance
Charitable Remainder Trust
Charitable Gift Annuities
Registered Retirement Funds

What You Need to Know

Naming The Grand Theatre Foundation as the beneficiary in your Will ensures maximum flexibility for the use of funds.

Legal name: The Grand Theatre Foundation
Charitable registration number: 11921 4260 RR0001

Click Here for Sample Bequest Language

If you already have a Will, you do not need not rewrite the entire document to include a bequest to the Grand Theatre. Instead, a simple clause known as a codicil can be used to amend your Will. Of course, we strongly recommend that you consult with your lawyer or estate planner to make any changes or amendments to your Will.

We would be delighted to speak with you about including the Grand Theatre in your Will. There is no obligation and your discussion will remain private and confidential. Please contact Jacob Wiley at jwiley [at] grandtheatre.com or 519-672-9030 x 245 to set up a time to discuss your wishes.

If you have included the Grand Theatre in your Will, please let us know so that we may properly thank you and invite you as a member of our Proscenium Society, joining others who have made the choice to remember the Grand in their Will.

Read more about the Proscenium Society and its members here.
Donor Member Benefits
Making a donation to the support the work of the Grand comes with a range of Benefits that vary depending on your giving level. From backstage tours and guest artist talks to hands on experiences with our artistic teams and invitations to special events, Grand Theatre donors enjoy a deeper sense of participation and satisfaction knowing they have helped us achieve our collective vision for the future of the Grand.
Have an idea for how we can make your gift more meaningful? We'd love to hear your thoughts! Please email or call the Development Team with your ideas!
Jacob Wiley (jwiley [at] grandtheatre.com x245)